All 9 regions demonstrated significant deviation from two null models and our simple model, which explicitly incorporates contagion dynamics, provided a good fit to the empirical data. The model highlighted the importance of runs and propagation in fluctuation dynamics. The parameter C represents the increased probability of runs of fluctuations beyond the strength of inter-city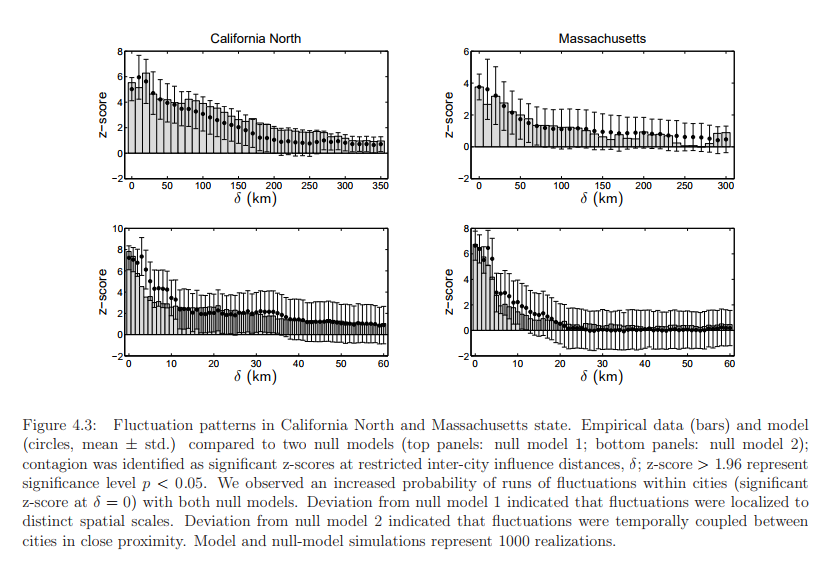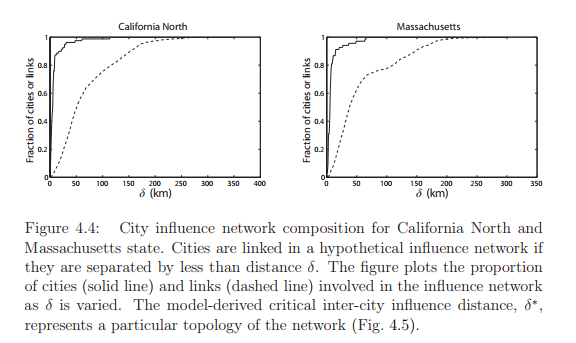 influence (set by parameter A) at δ = 0. Thus, if we ignore the cumulative effect of influence, fluctuations were more likely to re-occur in cities than be transmitted to neighboring cities. This increase in probability ranged from 1.1 times inter-city strength for Texas to 8.5 times for Massachusetts (calculated as (C ∗+A∗ )/A∗ , Table 4.1). Propagation of fluctuations was well described by an additive, exponentially-decaying, influence function. Values for the critical inter-city influence distance (δ ∗ = ρ ∗ ln A∗ 0.1 ) ranged from 2 km for New York to 106 km for Texas. The range of values can be accounted for by typical inter-city distances in each region (see Figure 4.4). However, when comparing regions, δ ∗ was found to correspond to similar influence network topologies: minimally connected cities and a largest connected component (see Figure 4.5). Figures for the other 7 regions are provided in the Appendix.
The spatial contagion model was not based on any mechanism particular to the venture capital industry. However, features underlying the model can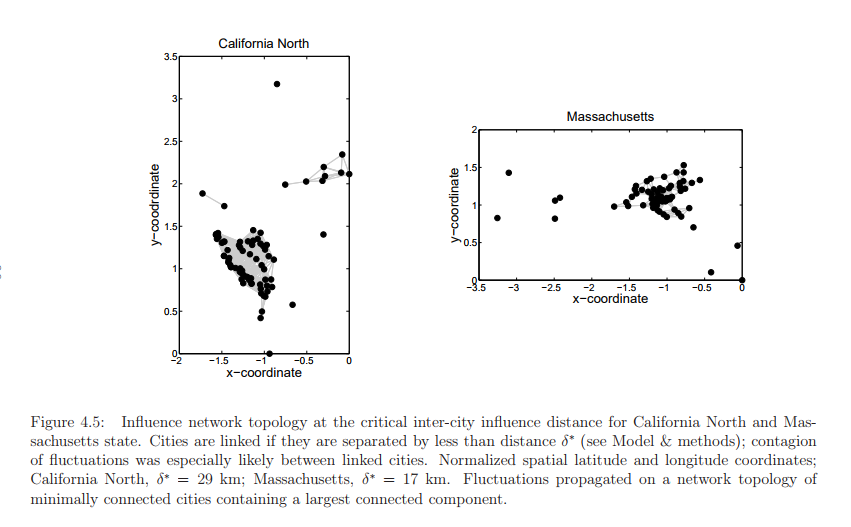 direct us towards processes that may give rise to the contagion of population fluctuations. The geographic concentration of VCFs are strongly tied to the location of businesses in which they invest. In turn, co-location of target businesses is driven by reduced infrastructure costs, access to skilled labor markets, and availability of private equity finance in the form of VCFs themselves. Consequently, VCFs can be though of as consumers whose location is largely determined by resource availability, both tangible and intellectual, and amplified by an intrinsic positive feedback cycle.
This provides some explanation for the strong, density-driven, spatial clustering of VCFs. But what of fluctuations? We suggest that rapidly increasing resource availability and quality in a city attracts VCFs, leading to population fluctuations (see Figure 4.2). This influx can exceed local capacity and, through a spillover effect, cause subsequent fluctuations in nearby cities; or, in less extreme cases, simply make neighboring cities a newly attractive prospect for locating. Resources may spread to neighboring cities and the cycle continues.
We have studied fluctuations in the numbers of VCFs registered in cities. In order to fully characterize the dynamics of VCFs, we should analyze fluctuations in other measures of venture capital activity. For example, amounts of funding raised by VCFs registered in each city, the number and value of deals they make, and head count. It has been shown that firm size using two measures—the number of employees and receipts—follows particular scaling laws (Axtell 2001). It would be interesting to see if there are fluctuation patterns in other measures of VCF activity.
In the introduction we suggested that proximity to target firms makes it easier for VCFs to monitor its investments. Thus, human mobility may directly influence the dependence of VCF dynamics on spatial distance. Statewide road and rail infrastructure may determine viable locations for VCFs (and their target firms). It would be interesting to see whether spatial distance is still relevant if the entire US venture capital industry is treated as a whole. Larger-scale transportation networks—such as air transportation— may inform a more appropriate measure of "distance". Indeed, the structure of the global air transportation network could not be explained solely by geographical constraints, and geopolitical factors had to be taken into account (Guimera et al. 2005). Separation of mobility scales has been noted before (Brockmann et al. 2006): using marked dollar bills as a proxy, it was shown that human movement was dominated by short distance travel with long-range jumps.
The dynamics of spatially-embedded systems is relevant for understanding the spread of disease, the efficient design of power and water distribution networks, and the growth of cities (Barthelemy 2010). Fluctuations in the long-term behavior of system components often have functionally important interpretations (e.g., local power outages). Characterizing the spread of fluctuations will aid with predicting system evolution and may inform systemspecific responses to extreme events.
4.5 Appendix
This appendix contains a description of the empirical data written by the data collector, and results for the 7 regions not shown in the main text.
4.5.1 Empirical data
The data used in this analysis were collected by my collaborator (Robert T. Plant of the School of Business Administration, University of Miami) who provided the following description of how the raw data were collected.
The term Venture Capital Firm (VCF) has no absolute definition. The National Venture Capital Association states: "Venture capitalists are professional investors who specialize in funding and building young, innovative enterprises. Venture capitalists are long-term investors who take a hands-on approach with all of their investments and actively work with entrepreneurial management teams in order to build great companies." However, the investment profile of many other firms often includes venture capital investments. Examples include Private Equity Funds, Corporate Venture Capital Funds, University Venture Capital Funds, Investment Banks, and Commercial Banks.
The data in this study covers 1981-2003 and was collected from the "Guide to Venture Capital Source" first published in 1970-71 by Capital Publishing Corporation and edited by Stanley M. Rubel. In 1981 the fifth edition was edited by Stanley E. Pratt and Jane Morris. From 1984 the reference book became known within the industry as "Pratt's Guide to Venture Capital Sources" (PGVCS) and was edited by Pratt and Morris until 1990 when Morris alone edited the book published by Venture Economics, a division of Securities Data Publishing. From 1991 the book has been edited by a variety of editors. In 1998, Securities Data Publishing became a Division of Thompson Financial Services.
The data contained in PGVCS was collected by the editors from a variety of sources. The primary source used by the publisher since 1973 has been the National Venture Capital Association (NVCA) the premier trade association that represents the U.S. venture capital industry. Other sources include the national Association of Investment Companies (NAIC); The National Association of Small Business Investment Companies (NASBIC); Mid-Atlantic Venture Association (MAVA); and the Western Association of Venture Capitalists (WAVC).
The data in the guide cannot be guaranteed to be complete for a number of reasons. There may be companies who did not become members of an association or may have requested that their information be omitted from the guide. A third factor affecting the inclusion of a VCF stems from the maturity and number of venture funds held by a firm. VCFs raise capital for a specific fund and then invest that fund, typically raising and investing multiple funds simultaneously. Firms in fund raising mode may have decided not to have their information placed in the guide and not solicit inquiries for capital when it was unavailable. An additional subtlety is that VCFs can form as a partnership. They raise capital and then during the investment period, which may last five or more years, partners may leave, moving on to another location, in effect dividing the partnership. Eventually the remaining partners may fold the firm as they either cannot raise further capital or do not wish to continue the partnership.
4.5.2 Results for 7 additional regions
The following figures show patterns of fluctuations similar to those presented in the main text—for California North and Massachusetts—for 7 additional regions: California South, Connecticut, New Jersey, New York, Pennsylvania, Texas, and Virginia.
California North contains cities with longitude coordinate west of -120◦ and latitude coordinate north of 36◦ ; and California South as cities with longitude coordinate east of -120◦ and latitude coordinate south of 36◦ . We separated the US state of California into northern and southern regions for the following reason: there are high concentrations of cities in northern and southern California separated by a distance of roughly 500 km with very few cities with registered VCFs in between, and the target businesses for VCFs in northern California are dominated by high-tech firms (Silicon Valley). Treating California as a whole, we were still able to identify spatial contagion of fluctuations, but the distance scales and model parameters resulted from the composite behavior of contagion in California North and California South as separate systems.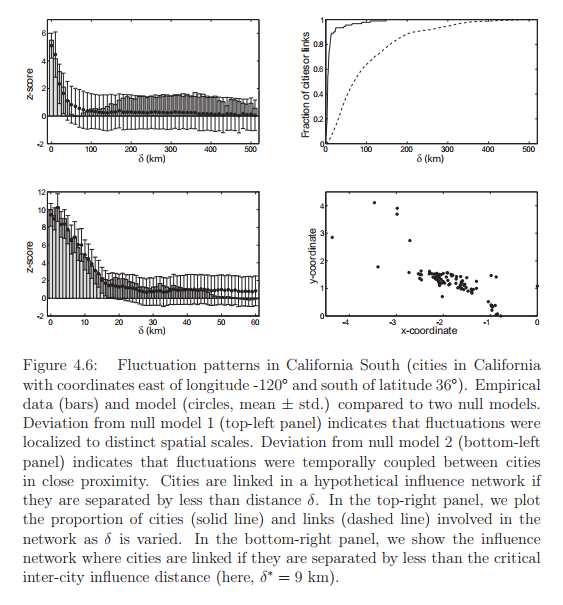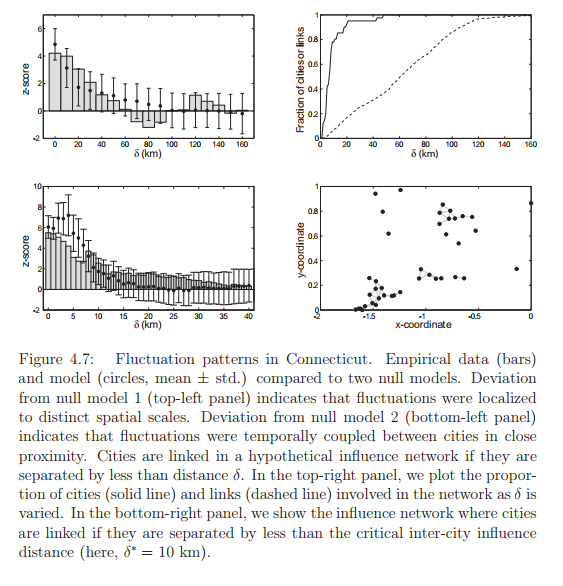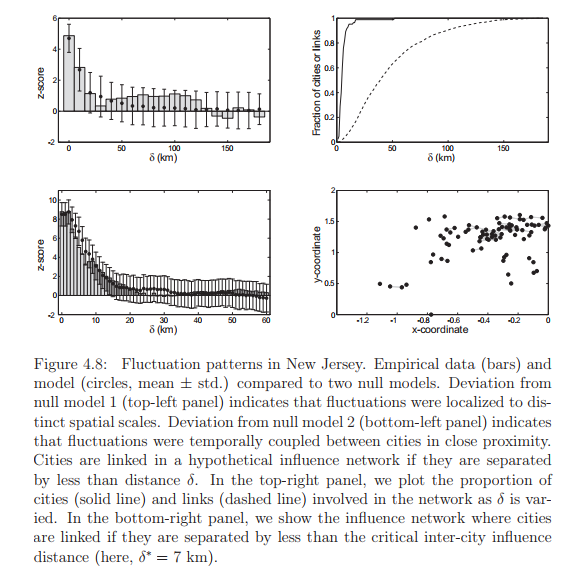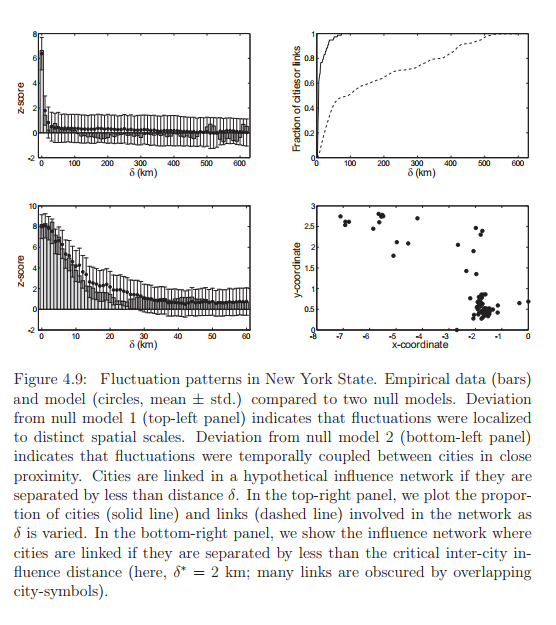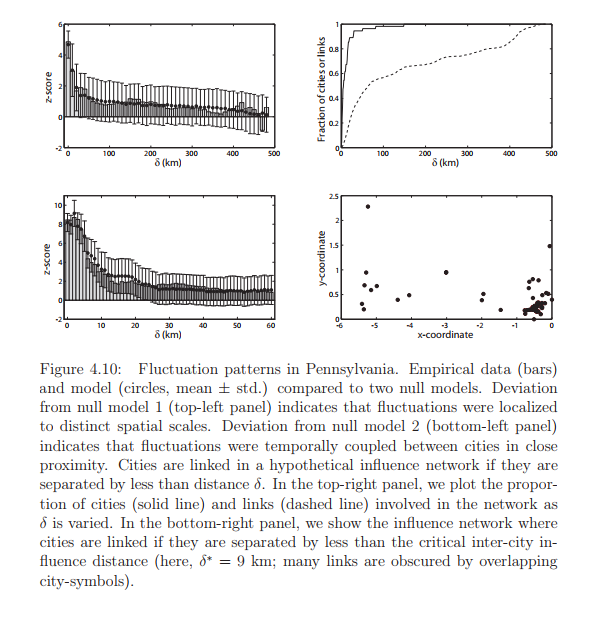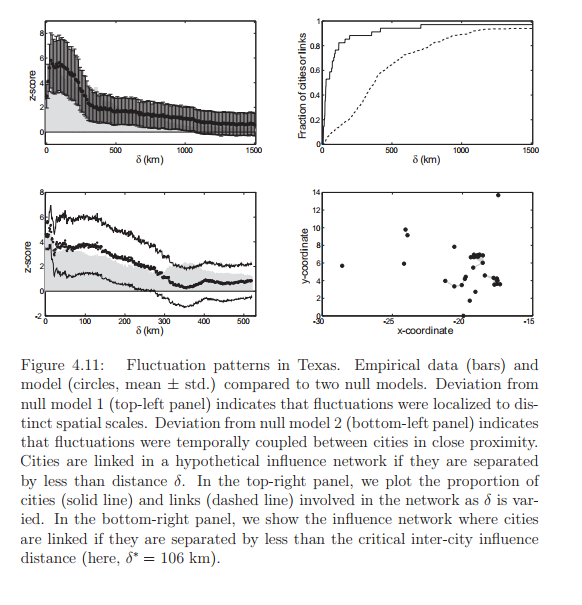 Next Page – Rapidly Detecting Disorder in Rhythmic Biological Signals
Previous Page – Spatial Contagion of Fluctuations in Social Systems